Here is a hand written one from Debbie and Mark.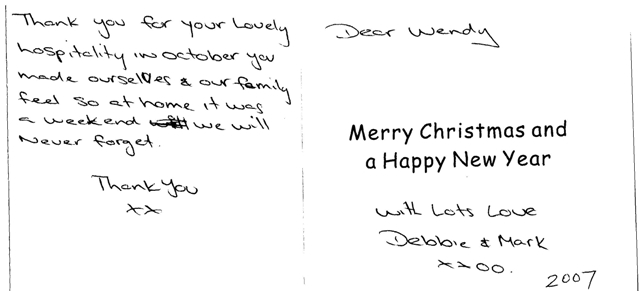 ---
Date: Tuesday 23 July 2013
Comment
We stayed at the Vineyard in July 2013 because it WASNT a typical main street motel. The location is terrific only 4 minutes dri8ve out of town with stunning views of the country and surrounded by a vineyard.
Our room was spacious and roomy for 2 adults and one big teen. The under floor heating was great during a chilly night and much less stuffy than A/C.
Everything was immaculate and clean with a generous continental breakfast (which is what we wanted after 4 days of bacon and eggs).
Highly recommend if you want peace and very friendly, helpful hosts.
Dean & Anne Bassett
---
Date: Tuesday 31 July 2013
Comment
After a night on the ferry, the long drive north was punctuated by a puncture on the Hume Highway and an irritating police car that shadowed me attentively most of the way from Boorowa. Approaching Cowra in the dark I chanced to notice a discrete roadside sign, Vineyard Motel. There was no neon, no floodlit forecourt, just a turnoff onto a country road. I'm not sure whether it was a sense of exploration or maybe just a decision to grab the first opportunity to stop the car and relax, but I turned left anyway.
Up the hill and past the first vines I found the place, and a warm welcome at Reception. With some hesitancy I mentioned that my friend Buckley (red cattle dog) usually camped in the back of the car.
"No, no need to keep him in the car," was the answer, "We're Pet Friendly!" and "Oh, what a lovely fellow! Yes, of course he can come in the room (just as long as he doesn't want to sleep on the bed)."
After assurances that Buckley will be completely content with a soft carpet and underfloor heating, we were introduced to our quiet room and a comfortable night, to wake next morning and walk with Buckley, enjoying the crisp frosty air and the vista across the wide vineyard. It will be sad if the vines really have to be removed, just because people are not drinking enough of the good Merlot that I enjoyed last night!
It is great to find an Australian motel that offers a European standard of welcome for a traveller with his companion dog. My congratulations and thanks to the Vineyard Motel for a high standard of hospitality and for a very pleasant stay.
(Dr) Jim Marwood, Hobart Tasmania (and Buckley the dog)
---
Date: Friday 21 June 2013
Comment
Just writing to say your accommodation is delightful. We were warm, comfortable and happy in the large room provided. Really enjoyed the view of the vineyard from the table when we had breakfast in the morning. Thanks again for setting up the cot with blankets for a hassle free stay. See you next year when the Grenfell show is on again.
Regards
Ian and Kate
---
Date: Thursday, 23 May 2013
Comment
Hi Kaizad and Persis,

Thanks for your hospitality!





Just wanted to write and say how much we appreciated all the effort that you put into making our stay at your motel so enjoyable, when we travelled out there for the Cowra Eisteddfod recently. We were particularly thankful for the fact that you were happy to arrange accommodation suitable for us and our four children, as it is often very difficult to find good family accommodation for our numbers.

The rooms were clean and fresh, and the evening meals were also much enjoyed - especially the brownies for dessert :) Your friendly and homey motel really has the feel of a country bed and breakfast! We look forward to visiting you again, next time we're in Cowra.

Kind regards,





Marten and Anne Hilberts
---
Date: Tuesday, 5 April 2011
Comment
Dear Wendy,

Thanks for such a wonderful weekend. We couldn't have wanted for more ! The idyllic peace and beauty of the location and your warm and friendly welcoming were fabulous. We would thoroughly recommend the Vineyard Motel and can't wait to return. Best wishes Di and Richard room 3!

Diana Craven
---
Date: Monday, 4 April 2011
Comment
Dear Wendy,

Many thanks for the wonderful hospitality and homely feel which we all experienced at the Vineyard Motel over the weekend. I would certainly recommend it to my friends and family in the future. Hopefully, I will be able to return in the not too distant future!

Angela Langton
Commerce Dept.
UNSW Foundation Studies
223 Anzac Parade Kensington NSW 2033 Australia | UNSW Sydney NSW 2052 Australia
---
Date: Tuesday, 29 March 2011
Comment
Dear Wendy-Jane,

Thanks for having us, really enjoyed it as did Miko & Skye. We had a lovely walk through the vineyards this morning and Skye loved playing ball there!

Thanks for being so genuinely "dog friendly" too. I know Miko can be a little anti-social, but I hope Skye will remember you next time and not bark at you!

Thanks again and hopefully see you soon.

Gail, Michael, Miko & Skye
---
Date: Saturday, 05 June 2010

Comment
Wishing you well in the various "AWARDS" taking place.
Don Neal
---
Date: Monday, 08 March, 2010
Comment
Beds were great. Hospitality excellent. Our entire group will be back - soon.
---
Date: Sunday, 07 March 2010
Comment
Came for the Rugby 10's. Accommodation excellent. Bringing our wives back for a longer stay.


---
Date: Saturday 6 February 2010
Comment
Hi Wendy,

Hope this finds you well. Just looked at the Cowra Guardian online and saw your much deserved award. Really excited for you. Thank you again for having us all at Christmas and thank you so much for the return of both my sand shoes and camera case.

Best wishes,

Kathy, Scott, Forest, Indigo and Beans
---
Date: 25 November 2009

Comment
Six friends were looking for a venue for our 8th Australian wine tasting trip. We wanted a place with comfort and atmosphere. This was it...roomy cool rooms (stood up to a 40 degree day!), wide verandas and surrounded by vineyards. Wendy Jane sent us a customised tour and vineyards plan that all worked out exceptionally well. Here is a motel and local travel adviser and gourmet consultant rolled into one. Wendy-Jane and her staff truly understood the meaning of service, and no matter what our need, they were there for us. The very economic 3 day package included a BBQ supplied for late arrivers, and a final morning cooked breakfast. Strongly recommend Neila's restaurant in town. . . .

Oh, and Wendy, ta for sending through the make up...it arrived today...Enjoy the jams and honey. Hi to Maree and Ken....I noticed Motel for sale...I hope it hasn't run you off your feet, and that your speed is more moderate on average. Thanks for making our stay so enjoyable.

Gary Schoer and 5 wine buddies
Sydney
---
Date: Monday 12 November 2009

Comment
Subject: Our Lovely Weekend

Wendy – just a quick note to say how much we all enjoyed our weekend at your motel. We shall certainly come back, and will definitely tell our friends. We didn't feel like being in a motel – we felt like we were guests at a friend's home.

Best wishes

Nancye & Dennis Marsh; Rod & Elaine Sandell
---
Date: Sunday, 09 August 2009

Comment
Rating: 4 /5: "Everything was fine for me and the puppy except I would like an outside light at night, perhaps on a sensor?" Carol, NSW August 09
---
Date: Sunday, 05 July 2009

Comment
Had a wonderful time - guest
Date: Sunday, 05 July 2009
Comment
Dear Wendy,





We safely got home 5:30 yesterday afternoon.

Thank you very much for your warm hospitality.

We were so much enjoyed staying with your motel.

We hope we can visit you again in the future.

Again, thank you.



Regards,

Peter & Kumiko.
---
Date: Wednesday, 04 March 2009

Comment
Had a lovely time - so peaceful - wonderful views - wonderful hospitality - nothing was a trouble. MW Darwin NT 3/3/09
---
Date: Thursday, 20 November 2008

Comment
Lovely setting, generous rooms, but above all, very friendly, helpful hosts. Earlier this year, we stayed at one of the "Motel-chain" establishments downtown Cowra - at about the same rate no match at all to the family-run Vineyard Motel!
With our best regards, Mirjam, Steven & Oliver
---
Date: Tuesday, 04 November 2008

Comment
Rating: 5 /5
"Beautiful surroundings, very comfortable accommodation and excellent service."
Gwllynes , VICTORIA September 08
---
Date: Sunday, 28 September 2008

Comment
Rating: 4/5
Published Comment: "We left our run too late and found that all the rooms were booked. However, we received great service with a referral to a nearby alternative and were successful. This just reinforces the very positive reputation that the Vineyard Motel enjoys. We have used it previously which is why we were keen to return."
from the TakeABreak Team support@takeabreak.com.au 02) 6100 7709 (Canberra), (07) 3102 3759 (Brisbane), (08) 9467 4392 Perth)
---
Date: Monday, 22 September 2008

Comment
Property: The Vineyard Motel Enquiry number: 1921671 Rating: 4/5
Published Comment: "The stay was so enjoyable that we extended to a third night! Clean, comfortable & relaxing, with very friendly & helpful management. Quiet location. Good base to explore Cowra & surrounds."
from the TakeABreak Team support@takeabreak.com.au 02) 6100 7709 (Canberra), (07) 3102 3759 (Brisbane), (08) 9467 4392 Perth)
---
Date: Monday, 10 January 2008
Comment
My stay at the Vineyard Motel was most enjoyable. I was very impressed with the vista, the room, the courtesy of both the Host and the Hostess and particularly with the lovely cool room during the heatwave.
Don Neal
Director - Creation Corporation Pty Limited
BA and Senior MsAccess Database & Software Developer
02 6258 8874
---