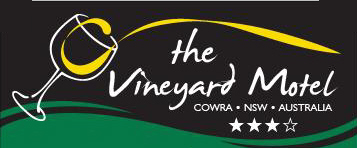 COWRA'S UNIQUE ACCOMMODATION
42 CHARDONNAY ROAD
COWRA N.S.W. 2794.

ABN:

55 121 193 012


Phone: (02) 6342 3641
Fax: (02) 6342 6800
Email: Click

We are very pet friendly
so please enquire when you book.

We also Offer Free Wifi!
---
FEATURES AT A GLANCE
---
With only six rooms, our Vineyard Motel has the charming and friendly atmosphere of a B&B, yet with all of the facilities and privacy of a motel.

The motel is licensed, there is a guest barbecue, or you can dine at any of the excellent restaurants nearby. We are happy to provide meals with some advance notice.

FEATURES AT A GLANCE
Quiet and peaceful accommodation amongst the vineyards (which have just recently been converted to Wheat and Sheep)

3 minutes from Cowra's town centre

2 minutes to the golf course

6 charming spacious rooms with all facilities -
- 1 deluxe double room with spa bath

Each room has at least a Queen Sized Bed, a Kettle, a Toaster, a Bar Fridge and a Microwave Oven

Pool with shade cover, and a guest barbecue

Complimentary Continental Breakfast

Air-conditioning and underfloor heating, openable windows

Wireless Internet for your wireless enabled notebooks

Motel Liquor Licence

NRMA rating 3.1/2 stars

We are a very pet friendly motel - please enquire when you book.
---
Click here to see BEDDING OPTIONS / ROOM CONFIGURATIONs.
---