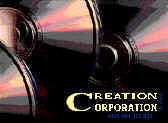 Serving the NSW Central West Region
Postcard Promotions can develop for you a full range of promotional ideas and materials.
See the Products & Services section for product announcements on this Web.
Contract Rates for graphic/promotional development work:
Clients can negotiate a time and materials contract. Fixed price contracts are not available.
The current rate for development work for In Every Office Members is $60.00 per hour.
It is $110.00 per hour for non members or as negotiated. Naturally, GST must be added
to the above.

Send mail to don_neal@creationcorporation.com.au with questions or comments
about this web site or you can use our Guestbook.
This Web Site is copyright © 1997 - 2019 Creation Corporation Pty Limited
ACN 064 312 438 ABN 70 064 312 438 and was created with:


Page last modified: February 08, 2019