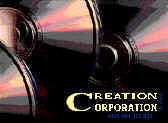 Please tell us what you think about our web site, company, products, or services.
If you provide us with your contact information, we will be able to reach you in case
we have any questions. This is also now where you add to our Guestbook. Click
Guestbook to view it.
Send mail to don_neal@creationcorporation.com.au with questions or comments
about this web site or you can use our Guestbook.
This Web Site is copyright © 1997 - 2019 Creation Corporation Pty Limited
ACN 064 312 438 ABN 70 064 312 438 and was created with:


Page last modified: March 15, 2007